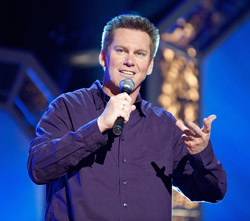 Setting a comedic standard of excellence that others continually try to follow, Brian Regan will make history on September 26 with the live broadcast of Brian Regan: Live, from Radio City Music Hall, the first live broadcast of a stand-up special in Comedy Central's history. And on May 8, Brian made his 28th and final stand-up performance on The Late Show With David Letterman, the most of any comic since the show began on CBS.
Brian is the unique comedian whose material is relatable to generations of fans and revered by comedians as the best in the business:
"He is one of my favorite, favorite stand-up comedians." - Jerry Seinfeld
"No comedian in the world says, 'Yeah, I want to follow Brian Regan.'" – Chris Rock
"Saw Brian Regan last night at the Arlington Theater in Santa Barbara. In a word (or three) Simply the Best!" – Dennis Miller
"You're one of the rare guys that is universally respected by comics as being one of the most hilarious guys out there at stand-up." – Joe Rogan
"Honestly, Brian Regan's the best stand-up working today. Period." – Patton Oswalt
"You're the guy people look up to…Brian Regan's the funniest guy…there's Brian Regan and then there's other people." – Marc Maron
"I'll take all of that guy you got…Very funny man." – David Letterman
Earlier this year Brian made a scene-stealing cameo in Chris Rock's film, Top Five and he was seen in Seinfeld's Comedians in Cars Getting Coffee. But it is stand-up comedy that is Brian's focus visiting close to 100 cities each year and selling out some of the most beautiful venues on the continent. Prior to his Radio City Music Hall performance in September, Brian will return to the legendary, 8600-seat Red Rocks Amphitheater on September 5 and in 2014 he sold out two shows at the 12,500-seat EnergySolutions Arena in Salt Lake City.
Brian has released two hour-long TV specials, two CD's and three DVD's: All By Myself (2010), is available on CD and download only through his website; his two hour-long Comedy Central specials, The Epitome of Hyperbole (2008), and Brian Regan Standing Up (2007) are available on DVD; I Walked on the Moon (2004) is available on DVD only through his website and Brian Regan Live (1997) is available on CD.
For more visit www.BrianRegan.com and follow Brian here @BrianReganComic