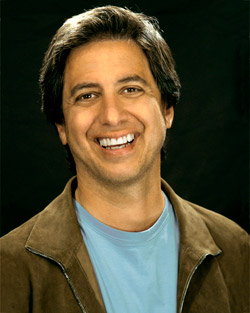 From 1996 to 2006, Ray Romano starred in "Everybody Loves Raymond," one of the most respected sitcoms in television history, and won an Emmy for "Outstanding Lead Actor in a Comedy Series" in 2002. As one of the show's executive producers, he also received two additional Emmys in 2003 and 2005 for "Outstanding Comedy Series," and shared a 2003 Screen Actors Guild Award with the show's cast.

Ray began his career in 1984 as a stand-up comedian in New York, which led to performances at comedy clubs across the country and appearances on "The Tonight Show" with Johnny Carson and later, Jay Leno. After appearing on "Late Night with David Letterman." Ray was offered a development deal with Letterman's production company, Worldwide Pants, which led to the creation of "Everybody Loves Raymond" for CBS.
Ray made his film debut in 2003 as the voice of Manny the wooly mammoth in 20th Century Fox's animated hit, "Ice Age," and reprised the role in four sequels, including the upcoming "Ice Age: Collision Course." Other films include "Welcome To Mooseport" (with Gene Hackman), and "Rob the Mob" (with Andy Garcia). He was also the subject of "95 Miles To Go," a 2006 documentary about his life on tour.

In 1998, he wrote the New York Times best-selling book, "Everything And A Kite," and with his brothers, Richard and Robert, wrote the children's book "Raymie, Dickie, and The Bean: Why I Love and Hate My Brothers," which received a Grammy nomination for Best Spoken Word Album in 2006. His comedy album, "Live at Carnegie Hall," was also nominated for a Grammy in 2002.

In 2009, Ray teamed with Mike Royce to create and star in "Men of a Certain Age" opposite Scott Bakula and Andre Braugher. The TNT comedy-drama series ran for two seasons and won the Peabody Award in 2011. Ray also played photographer Hank Rizzoli for three seasons on NBC's "Parenthood."

He is currently starring with Bobby Cannavale and Oliva Wilde in the 2016 HBO drama series "Vinyl," created by Terence Winter ("Boardwalk Empire") with executive producers Martin Scorsese and Mick Jagger.


Ray resides in Los Angeles with his wife, Anna, and their four children.