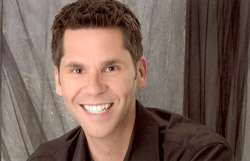 An actor, writer, host and producer of over 1,400 hours of television, John Henson currently stars as co-host of ABC's hit summer reality series "Wipeout." With an impressive 20 years in the business, Henson has established himself as one of entertainment's sought-after players with projects in various stages of development. Having recently expanded his production company, Skunk Boy Inc., Henson is set to produce the film "Making Jack Falcone" which is based on the New York Times best-selling book by Joaquin "Jack" Garcia. Produced with Double Feature Films, the project will star Benicio Del Toro with
Academy Award-winner Steven Soderbergh as executive producer.

Henson began his professional career as a stand-up comedian where he enjoyed much success touring the country for several years. He gained audiences' attention and critical acclaim when he was selected to replace Greg Kinnear as host of E! Entertainment's award-winning "Talk Soup." It was this role as host, writer and co-executive producer of "Talk Soup" which garnered Henson a cult following in addition to three Emmy award nominations and four Cable Ace nominations.

Henson's subsequent projects included the hour-long weekly series "The John Henson Project" which he created for Spike TV, hosting Spike TV's GQ Awards pre-show, and TV Guide Network's longest running series "Watch This" where he served as host, writer and executive producer. In 2006, he hosted the Creative Arts Technical Emmys opposite Meredith Vieira. Henson is also a regular pop culture analyst for CNN and MSNBC among others.

As a writer, Henson has contributed to US Weekly and TV Guide Magazine. His most recent acting credits include a recurring guest star role on the hit NBC television series "My Name Is Earl." In spring 2010, Henson served as celebrity guest host on the game show sensation "Who Wants To Be A Millionaire."

Henson currently resides in Los Angeles.